Aug 18 2010
Welcome, everyone!!  I'm oh so tickled to be sharing some brand spankin' new sneak peeks from the newest CHA releases from Our Craft Lounge!  If only you could "see" my IRL smile!   
*** And guess what?!  You'll have plenty of chances to win a free stamp set!   Just leave a comment every day on the sneaky peeks being shared by each team member on the tour and the blog hop on Friday  —  Aug. 18, 19, & 20.   Then we'll choose winners on Sunday, August 22.    Each of us will be giving away a stamp set!  (Limit of one free set per winner.)
Now for the "peeking"!  It's my pleasure to bring the fantasy & fun of the ever-loved reindeer to you today, with a sweet peek at the new "Reindeer Games" stamps.   Oh so fun!   There's something for the 'outside'/front of your cards, plus the rest of the sentiment for the 'inside' of the card!   (In the words of my G'son James … when he's on the phone with me!  … …   Here!  Let me show you! 
Now do you see what I mean?  There "has" to be more, so you'll need a peek later on at the inside as well.  😉  
I've had so much fun with this reindeer!  See that cute nose?  Well, our reindeer practically "demanded" to have some special nose make-up, so I've sparkled it up with some Sparkly Fluff for good measure.  Then of course, those decorative lights certainly needed to bring their own shine to the party, so they've been glossed with a glaze pen.    I hope you can see the additions in this little extra pic.
What about the snowflakes?  Well, I've added my very first video tutorial below to get you started!  Basically, I dry pressure embossed the snowflakes, then heat embossed for the white appearance against the saffron background.  I would love to hear your thoughts!
~ 
~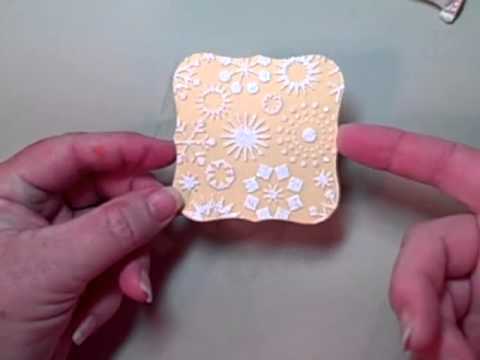 ~
Now I know that you're going to find a lot more fun & inspiration along the sneak peek way today, so you'll want to be sure to visit these talented ladies' blogs for more eye-candy!    Remember that you can leave a comment at each blog, for lots of opportunities to win a free set!  I hope you have fun.  I'm actually planning to make the tour myself!   Oooooh!  And check back at about the same time tomorrow … for more peeks!
Amber Hillman
Beth Silaika
Bev Gerard  (So glad you're "here"!)
Broni Holcombe
Cambria Turnbow
Charmaine Ikach
Cindy Lawrence
Deb Felts
Debbie Corbari
Deborah Anton
Denise Marzec
Heather McNally
Holly McMillen
Jeanne Streiff
Joy Kennedy
Kendra Wietstock
Kisa Peters
Lori McAree
Michelle Fowler
Pam Hooten
Terri Thill
****So where can you find these fun new stamps?  Check out the great list of retailers right here! 
37 responses so far
37 Responses to "Sneakin' & Peekin'! * OCL's First Peeks!"