Jan 13 2014
Today I'm tickled to share my 4th Creative Crew Challenge project, CCREW0114HF (holiday focus).   And … I also have a video tutorial to help you create your own!
Here's the challenge from the Splitcoaststampers Demo Forums:
January is National Hobby Month.  Share something crafty besides a card.  It can be a wreath, a banner, a tablescape, or picture frame, a headband, some jewelry … it's totally up to you.
I chose 'none of the above'.   😉
My favorite paper for the snowflakes is double-sided designer series paper.  This one is SU's Afternoon Picnic.  It was lovely on its own, but I opted to add some cool shimmer with my Vanilla Smooch Spritz.  Hopefully you can see the shimmer effects in the following photo.
I began to explore sizes with this as I was working on the video.  Wow!  Some of my earlier creations were large enough to create great package embellishments for Christmas!  For those I used 6″ squares … You can see them on their packages in the Christmas photos.
~
I hope you'll enjoy making these for your own decorations and/or package bow alternatives!   Hope you enjoy the video!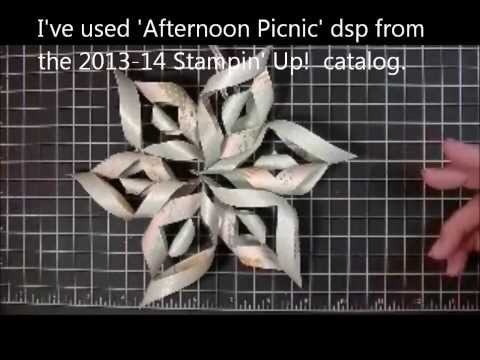 ~
~
2 responses so far
2 Responses to "Making Snowflakes! * Tutorial"